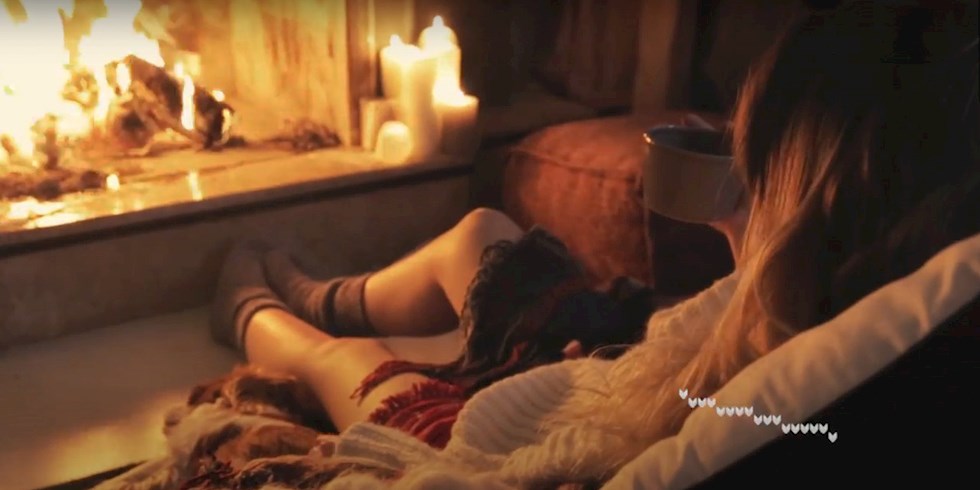 Terms like quarantine or curfew can really spoil our taste. Quarantine, which is defined in the dictionary as "typically confining prisoners to their cells to regain control during a riot," or "a situation of isolation or limited access established as a security measure," does not sound seriously pleasant. This period, when we cannot attend collective meetings by looking at the four walls, cannot go to the stores and shop to your heart's content, is enough to squeeze your heart. The pandemic social isolation process that started in March, when the air was just getting warmer, nature became green and the blue sky was even brighter, was grayer and colder in November… The reality that we are in after reading this paragraph may have bored you even more! The friend painfully speaks, but we apologize anyway, and we also have a recommendation.
Have you heard of the Danes' concept of 'hygge'? This word, which is pronounced 'HU-GA', has been very popular over the past few years! This word, popular again with candles, blankets and books bearing the name 'Hygge', first appeared in 18th century Danish writings. 'Hygge', which is associated with the concept of 'wellness', is born from the cold, long and harsh winters of Scandinavia and highlights Denmark's famous happy traditions.
The full meaning of the term 'hygge', defined as light in the dark, is "a comfort and a relaxed festive quality that evokes a sense of satisfaction or well-being. You may need more than blankets, candles, cookies, and coffee to achieve this level of satisfaction. You can start trying different 'hygge' rituals and methods to gain a more calm and peaceful structure in your daily life.
The quarantine and social isolation process may have prevented our parties and celebrations. However, another tragic fact of the pandemic is the number of people affected by the virus and the proportion of people who lost their lives! If we are alive, healthy and able to safely apply social isolation, we are very lucky! Moreover, you do not need to buy something to practice hygge techniques. The 'hygge' that renews your soul aims at spiritual happiness, not material. The 'hygge' that promotes a positive perspective in negative situations may be what we need most right now!
Focused on human emotions, this concept is inspired by the instincts to protect ourselves and those around us. Having a very feminine nature, hygge focuses on nurturing, generosity, family and trust themes. In this philosophy, which adds meaning to different processes, daily objects or rituals allow you to value yourself, others and the world in general. Below you can see 10 ways to keep your life up to hygge basics…
Slow down
Anything can be rushing in daily routines. However, lately we have been going through a rather strange period in uncertainty. You can see these strange times as an opportunity to slow down. While cooking, reading a book or watching a movie… Take your time! We're not saying read the same page for hours or spend hours trying to chop a vegetable! We tell you to slow down your life without forcing yourself. This is also a situation that goes hand in hand with living the moment.
LIVE IMMEDIATELY
When we say slow down, we are actually pushing you towards living the moment! It is very easy to say "live for the moment" but it is a concept that is really difficult to implement. You may be saying, "I live every moment"… But most of the time this is not the case. Even if you think of something different while doing something, it shows that you are not experiencing this moment. Yoga and meditation also aim to bring your mind to the main. Instead of thinking about what to do next, the next day's plan, what you did yesterday, force yourself to focus on the moment and think about the present! You will understand the beauty and value of even the smallest moments. Are you walking outside? It is very nice to dream, but live in the present by focusing on the sounds, people and nature around you at that moment.
FAVOR
Making others happy to make yourself happy sounds very selfish! But one of the Danish philosophies is to cooperate and increase well-being. It is a fact that assistance and well-being increase personal happiness. Helping your elderly neighbor in grocery shopping, donating, volunteering or doing good in general share the happiness of you and your environment as in the basic hygge philosophy.
BACK TO NATURE
One of the best ways to live the moment is to be more intertwined with nature. This is not only possible with nature walks or rides in parks, but also garden activities. Words are not enough to describe the benefits and relaxing feeling of inhaling the scent of the earth! If you don't have a garden, you can plant flowers on your balcony or start planting your own vegetables and fruits.
BECOME A MINETTAR
Being grateful for your home, family, and friendships positively affects your mental health. Besides, even the simplest things, fresh air, nutritious meals or being grateful for a hot drink can make you feel good. Thanking the universe for the positive of your circumstances will make you more satisfied and happy in your daily life.
ACT YOUR SENSES
With the loss of smell we experience when you have a cold, we understand how important it is to smell. We see the sensitivity of touch when a part of us is hurt. However, we forget how important our senses are in daily life. The senses, which are the most important part of life, can make you more aware of your environment and your feelings. You can apply sense awareness, which is a part of living the moment, in everything in your daily life. You can awaken your sense of taste with a sweet and hot drink, stimulate your sense of touch with a soft blanket, dance to beautiful music or watch an impressive movie! The senses are an integral part of life and this is one of the foundations that shape the hygge philosophy.
AN INTERNAL HEATING ATMOSPHERE
Hygge usually comes from spiritual and mental happiness, but we cannot deny the impact of those around us. Candles, blankets, and hot drinks, which are at the core of the popular 'hygge' concept, can help you with this physical atmosphere. You can surround your living room or the place where you spend the most time at home with fragrant candles or soft blankets. Be ready for pleasant movie times at home by wearing your warm tracksuits and socks, especially on cold winter days.
SPEND QUALITY TIME AT HOME
Quality time may mean something different for everyone. However, we now have to spend much more time at home, whether we want to or not. It is much easier than you think to transform your home into a place where you spend enjoyable and quality time! This is not only possible with activities such as watching movies and reading books… Trying different recipes, taking online lessons, trying a new handicraft activity, doing puzzles or starting joint activities with your family… All these make the time you spend at home more quality and productive. . Moreover, in accordance with the hygge philosophy, you add new and satisfying things to yourself.
THINK
Thinking yes! Hygge's philosophy can be summed up as living in the moment and being grateful for the present, but thinking is also part of it. When we slow down our lives, we can focus more on the events around us and find time to self-criticize. During these times, you can think about the important things in your life and focus on what you want to change about yourself. Living in the moment and slowing down gives you more time to think about important decisions in your life. What makes you happy? What are the things you want to change about yourself? How can you improve your life? Answer all these questions!
DO NOT LOSE HOPE
The social isolation process the whole world has gone through has been very effective for many people in terms of losing hope. But hope is the basis of everything! Social isolation can be a process of rest and return to your core rather than panic and anxiety. Things we do in our personal lives: cooking for loved ones, spending time with our family or watching movies can emphasize the concept of hygge. Hoping for a better future for yourself and your loved ones can really lift your mood!