The Jewel Journey with Le Gemme's new duo takes us to the glory of India and the Ural Mountains. While the holographic variable color precious aventurine stone enchants the beloved spice saffron, the red color of saffron against the lavender leaves catches the eye. With the perfect harmony of aventurine and saffron, two new fascinating precious members are born: Le GemmeAstrea and Le GemmeAzaran Eau de Parfum.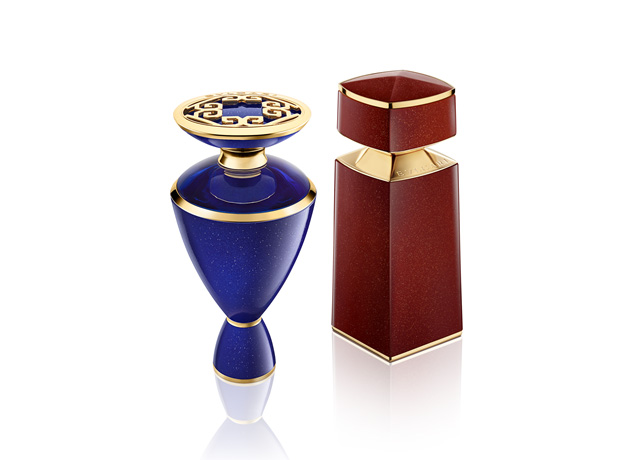 Master Perfumers Jacques Cavallier and Alberto Morillas, who interpret the charm of both India and the Italian Jewelery house together, create a unique sensuality that will lead to the beauty of the Ural mountains. Created with the daring creativity of Bvlgari, Eau de Parfumler has a valuable place in the new duo of Le Gemme Upper Segment Perfume Collection.

LE GEMME ASTREA
Alberto Morillas, for Le Gemme Astrea, "I wanted to concentrate the mystery and power of this precious stone in the most sophisticated fragrance." says. Inspired by the sparkle of stardust and blue aventuria, Le Gemme Astrea takes its name from astér, which means star in Greek, and the magic of the starry night comes to life in the radiant and oriental fragrance. Le Gemma Astrea has saffron essence in the top note, Arabic jasmine essence in the heart note, and honey chord in the bottom note.

LE GEMME AZARAN
Inspired by the color of bright red aventuria, Le Gemme Azaran's name means "like fire" and reveals the powerful energy of the world with the magnificent woody Eau de Parfum. Master perfumer Jacques Cavallier explains how he designed Le Gemma Azaran: "Saffron is the most precious spice in the world, and when I created Bvlgari Le Gemme Azaran, I was inspired by saffron's versatile, fresh, spicy, hot and leather chords. Le Gemme Azaran has bergamot essence in the top note, saffron extract in the heart note, and red cedar wood in the bottom note.