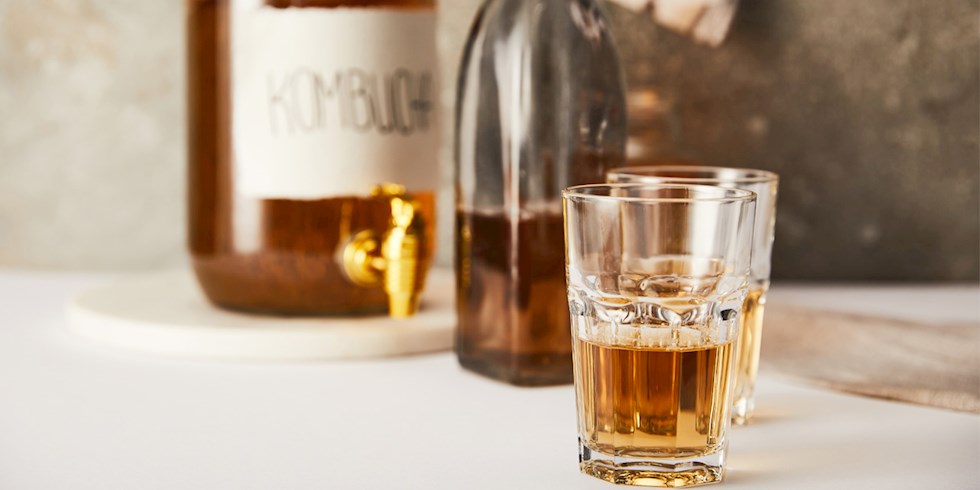 We often turn to skin care creams, serums or tonics, as we expect visible results. What if we provide skin care from the inside? After all, doesn't the inner beauty come out? For this very reason, there is an unexpected but also very interesting method among skin care trends: Kombucha tea! If you're ready to kick-start visible results from your organs, we suggest adding kombucha tea to your morning routine. Below you can see everything you need to know about this miraculous potion …
WHAT IS KOMBUCHA TEA?
Kombucha, similar to iced teas, is a different type of tea with its acidity. Having more benefits than regular beverages, kombucha is made with fermented green or black tea. Combined with a good bacteria called 'Scoby', kombucha tea is also fermented by leaving it with sugar. Kombucha tea, which becomes gaseous during the fermentation process, has a tart taste.
WHAT IS 'SCOBY' BACTERIA?
First of all, we want to say that the 'Scoby' bacteria has nothing to do with 'Scooby Doo'! Scoby, which means SCOBY 'Symbiotic Culture of Bacteria and Yeasts' (symbiotic culture of bacteria and yeasts), simply means a nest of good bacteria. 'Scoby', a living organism, is seen as the starting point of Kombucha culture. This bacterial community that grows and folds over time allows you to make Kombucha tea at home.
WHAT ARE THE BENEFITS OF KOMBUCHA TEA?
Kombucha tea is not only found in popular health food places! Kombucha tea, which is now consumed all over the world, is known for its regulation and healing of the digestive system. Providing the balance of good and bad bacteria in your body, kombucha tea also affects the skin texture. Kombucha tea, which heals skin complaints related to digestive health such as acne, rosacea, dermatitis, eczema, also regulates your skin health starting from your organs.
WHAT ARE THE EFFECTS OF COMBUCHA TEA ON SKIN HEALTH?
Kombucha tea, which creates a healthy bond between your skin and digestive system, also helps your skin with the B-Vitamins it contains. Providing the same effect with vitamins B2, B6 and B12 in skin care products, kombucha tea gives your skin a glow from the inside.
IS KOMBUCHA A NATURAL PROBIOTIC?
Although not clinically proven, kombucha tea is known to have many health benefits. The properties of kombucha tea, naturally fermented and containing live good bacteria and yeast, make this drink a probiotic. Composed of helpful and good bacteria, probiotics come in different forms. In addition to regulating the digestive system, you can count kombucha tea among probiotics that support a healthier skin texture.
WHEN SHOULD COMBUCHA TEA BE CONSUMED?
What we drink and eat throughout the day can make us more sensitive to chemicals and toxins. Therefore, it becomes more difficult for our digestive system to work. The bacterial and antibiotic imbalance your body experiences throughout the day can make your body more sensitive and cause skin problems.
If you do not consume sodas on a daily basis, you can choose to drink kombucha tea at the end of the day. In addition, you can consume kombucha tea every day at any time you wish. You can drink kombucha tea every day, which provides the balance in your body!
SHOULD COMBUCHA TEA BE DRINKED HOT OR COLD?
Useful bacteria are damaged by heat, so it is recommended to consume kombucha tea at room temperature. When kombucha tea is stored in the refrigerator, it can cause excessive cold bacteria to sleep.
ARE THERE ANY SIDE EFFECTS OF COMBUCHA TEA?
There is nothing to suggest that kombucha tea can be harmful! However, like many natural beverages, it is recommended to consume kombucha tea with the support of a dietician during pregnancy. You can increase your routine by consuming less kombucha tea at first, which you can consume a glass or even more a day. If your stomach reacts to fermented foods, you can arrange your consumption rate of kombucha tea by contacting an expert.